Radon and Real Estate
In more recent years, people have been concerned about Radon Gas levels before purchasing a home. Many people are having radon testing performed as part of their home inspection.
While Radon Testing and Mitigation may not be mandatory procedures during a real estate transaction, the results of a radon test are subject to real estate disclosure laws. This means, if a radon test is performed, the owner of the home is then required to reveal the results to any potential buyers.
In other words, if a home is tested by a potential buyer, and that buyer backs out for any reason, the owner of the home is now required to provide those test results to the next person looking to purchase the home, even if the next person has not requested a radon test.
Radon does not need to prohibit or delay a real estate transaction, here's what you need to do.
Building a home? Read our blog post: "Radon Resistant Construction for Homeowners." Table of Contents
Choose Radon Eliminator for your Testing and Mitigation Services
I am the Seller, what do I do?
If you are the current owner and you're looking for someone to buy your home, you can be pro-active and have your home tested for radon BEFORE you put it on the market.
Once your home has been tested by a Licensed Radon Testing Company, you can save the results and present them to the potential buyers.
This is a good idea for a few reasons.
1. If your home tests below the EPA recommended action level of 4.0 pCi/L, you will save time during the home inspection by providing the buyers with the test results. If they choose to have another test performed of course they can at their own expense, but you could save the time by already knowing the results ahead of time.
2. If you know your home contains elevated levels of radon gas before you try to sell it, you can be pro-active and have a Radon Mitigation System installed. This will show any potential buyer that there was a problem but it's already been taken care of so that is one less thing that needs to be done before you can sell the home.
Here's the thing, more than likely you will be paying to have a radon mitigation system installed if your home tests high. Very few buyers out there will be fine with purchasing a home that contains cancer-causing gas.
Even if you wait to have the test done, you're only saving a bit of money on the testing cost. If the buyer wants a test and your home tests high, they are going to require that you fix the problem before they move in.
If you don't want to pay for it and the deal falls through, who's to say the next buyer is going to want to pay for it? Remember, once the test has been done, you are required by law to provide any potential buyers with the results. Having the system installed prior to selling the home will remove an additional step in the process and will help to speed up the transaction.
I am the Buyer, what do I do?
If you are in the process of purchasing a home and you are going through the home inspection process, NEVER deny the radon test. If your home inspector does not offer a radon test, you will need to find a licensed company to perform the test for you.
Since the cost of the home inspection falls into your hands, so does the cost of the radon test. Request that your test be dropped off on the day of your home inspection, it can then be picked up approximately 48 hours later.
Once you know the results of the test, you will know the homes needs a radon mitigation system installed. If so, you can request that the seller pay to install the system before you move into the home. Very rarely will the seller refuse.
Make sure the testing and mitigation are done by a licensed professional. Ask to see license information before any work is performed. Unfortunately, some sellers will try to cut corners, and for a cheaper price they may find someone to install the system who is not qualified or licensed to do so.
This is your potential home, make sure the job is being done right. If corners are cut, it will only make things worse for you in the long run. If you go to sell the home and it has a system that was not installed by a licensed company, it will need removed, and a whole new system will need to be installed which you will end up paying for.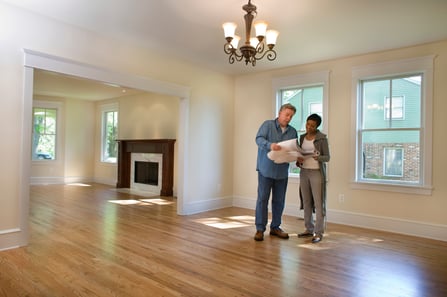 I am a Real Estate Professional, what do I do?
If you are a real estate professional, inform your clients of radon gas. Make sure they understand the dangers of purchasing a home that contains elevated concentration levels of radon.
Find a radon company to work with, someone who is licensed with The Ohio Department of Health, who you can refer your clients to when they don't know who to hire.
This will save time on the transaction. If you can provide a reputable radon company for your clients they won't have to do the digging themselves. Find a company who will drop the test off during the home inspection and promptly pick it up 48 hours later. Find a company that does next day radon mitigation installation. All of these things will ensure that your transaction is not delayed due to radon gas.
Choose Radon Eliminator for your Testing and Mitigation Services
If you are a home buyer, seller, or a real estate professional, choosing the right radon company is a crucial step to ensuring everything runs smoothly during the real estate transaction.
Radon Eliminator has a team of professional who are licensed with The Ohio Department of Health. They have passed the necessary courses and received the certification required to complete both testing and mitigation services throughout the state of Ohio.
Our team has performed countless radon tests and installed hundreds of mitigation systems for real estate transactions. We work directly with numerous home inspection companies and realtors on a day to day basis. We have been highly praised for our flexibility when it comes to getting things done on a tight schedule.
We place our real estate clients first. We know you are more than likely on a time schedule and need things done quickly. We schedule testing and mitigation appointments next day, and have even been known to drop a test off same day!
Our team takes pride in their work and will make sure that you are satisfied with our services before leaving the job site.
If you are in the process of buying or selling a home, please contact the experts at Radon Eliminator for discounted Radon Testing and Free Radon Mitigation Quotes today.