Most people think that they are aware of everything that could be harming them in their homes.
However, there's a decent amount of people that have not heard of radon or its harmful effects.
Radon is a colorless, odorless, and tasteless radioactive gas.
When there are elevated radon levels in your home or any other building, it can have an adverse effect on your health.
Since we don't know if we are breathing in harmful levels of radon, it is essential to have our homes tested.
Many people think that just because they haven't heard of radon that it must not be that dangerous.
That couldn't be further from the truth.
In the article below, we will talk about several reasons why you should take radon seriously.
Table of Contents
Radon Causes Lung Cancer
Radon gas is a Class A carcinogen.
That means it is known to cause cancer in humans, specifically lung cancer.
Radon decays quickly and can attach itself to things like moisture or dust in the air.
When you inhale dust or moisture with radon attached to it, it can cause damage to the cells that are in the lining of the lungs.
Radon is the second leading cause of lung cancer, right after cigarettes.
Anyone is susceptible to radon, no matter their age, race, or prior medical conditions.
If you smoke, your odds of getting lung cancer are increased substantially if your home has an elevated radon level.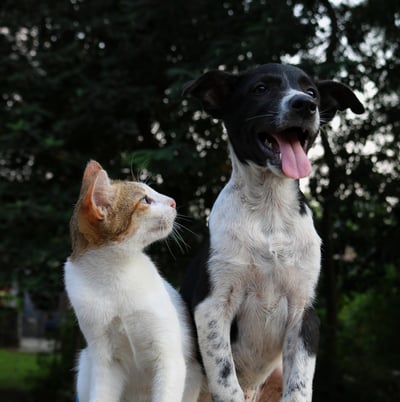 Your Pets Aren't Safe
Your pets can be more susceptible to elevated radon levels' adverse effects because of their higher respiratory rate.
They are also lower to the ground, where radon levels are at their highest.
There have been many cases where pets have developed lung cancer, likely due to radon exposure.
Properly testing your home and installing a radon mitigation system, if necessary, will protect your health and the health of your pets.
This development begs the question, is anyone safe from radon? Read our blog post: "Who is at Risk for Radon Exposure?"
Radon is Everywhere
The risk of inhaling radon goes beyond our homes.
Radon gas can become trapped in any structure, no matter how large.
Apartment buildings, condos, office buildings, storefronts, factories, and schools have all tested positive for elevated radon levels.
But just like your home, large buildings can be mitigated to a safe level.
The problem is that many times these types of buildings aren't tested or mitigated.
If you frequent one of these larger structures, you should ask the building owner if they have conducted a radon test in the past.
If they haven't, you should request that they order a test.
Radon testing kits are available online, or the building owner can have a company like Radon Eliminator professionally test their building.
If mitigation is necessary, the building owner can work with Radon Eliminator to install a mitigation system.
Your Basement is at a Higher Risk
If your home has a basement, it is especially important to have it tested for radon.
Radon tends to accumulate the most on the lower levels of the home.
If you on the lowest level of your home, you could be consistently breathing in elevated radon levels every night.
If you have an exercise room in your basement, working out could be counterproductive if you are doing it in an area with dangerous radon gas levels.
The increased respiratory rate you get from exercising and being low to the ground during specific exercises like push-ups or stretching can put you at a higher risk than normal.
If you spend a significant amount of time in your basement for any reason, you absolutely need to have your home tested.

Radon Can Be Present Anywhere In Your Home
The lowest level of your home is typically at the highest risk for elevated radon levels, but that doesn't mean the rest of your house is safe.
Your home could have a high concentration of radon gas in the lowest level of the house, causing the radon levels on the next floor to creep up to an unsafe level.
This is why everyone who owns a home to have it tested no matter how the home is built or used.
There have been extremely high radon test readings from homes with unfinished basements, finished basements, no basements, and everything in between.
Many homes will have elevated levels of radon on multiple levels of their home.
Radon Eliminator
The team at Radon Eliminator believes that radon awareness is essential.
If you've never had your home tested for radon, now is the time to get it tested.
You and your family could be breathing in elevated levels of radon without ever knowing it, which could eventually lead to lung cancer.
Radon Eliminator can test your home, and if necessary, they can install a radon mitigation system to lower the levels of radon in your home.
To get started with Radon Eliminator, and for a discounted test, click the button below.