What Changes Over Time
People often as the question "how often should I have my home tested for radon?" Look at it this way, many people go to the dentist twice a year, have their oil changed in their car a few times a year, and follow up with their doctors appointments.
We do not just do these things one time and think that is enough. Things change over time as we are all aware, and the same goes for radon gas. However, many people do not realize this and believe that checking it one time is enough.
Wondering what exactly is a safe level of radon gas? Read our blog post: "What is a Safe Level of Radon Gas?"
Here is a list of several reason it is important to have your home tested for radon more than once.
Table of Contents
Schedule a Discount Radon Test
Seasonal Changes
There are many different variables that can cause your radon to fluctuate in your home. Seasonal changes are one reason to cause your radon gas levels to change. If you have a test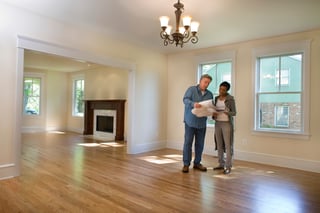 done in the spring, it is recommended to have another one done during a different season such as summer or winter.
Having your home tested is the only way to know if your radon levels have changed.
Home Changes
Radon gas enters your home through cracks in the foundation, gaps in the floor, cracks in the walls, and construction joints just to name a few. If you are having major renovations done to your home, this can change the ventilation and the soil beneath your home which can cause radon to find new ways to enter your home.
Having your home retested after any major renovation is the safest way to be sure radon has not found a new way into your home.
Changes In Living Style
Radon gas levels can change in your home if you change your living arrangements. If you add a bedroom in your basement, an office space or a play area for the kids, you will be closer to the radon intrusion point of your home which means you should retest your home to ensure you will not be spending extra time in the area closest to the problem.
Concerned that radon exposure may be becoming life-threatening? Read our blog post: "Is Radon Gas Killing You?"
Keep in mind that you do not need to test for radon every month but it might be a good idea to check it every few years just to be safe. Radon Eliminator offers Discounted Residential Radon Testing.
Now there is no excuse not to have your home tested for radon gas. Click on the link below to schedule your test today!