3 Steps To Take for Radon Action Month
The Environmental Protection Agency has designated January as National Radon Action Month.
This is the perfect time to spread Radon awareness throughout the state of Ohio, to educate and encourage other's to spread the word about the dangers of Radon Gas.
Radon is the second leading cause of lung cancer in the United States, and the leading cause for non-smokers. It is an odorless, colorless, and tasteless radioactive gas that is found in different elements such as rock and soil throughout the world. Radon is released into the air through the natural half-life decay process.
Radon enters a home through foundation cracks, sump pumps, exposed soil (such as in a crawl space), loose fitting pipes, drains, and construction joints.
Need more information about Radon? Read our blog post: "What you need to know about Radon Gas." here!
Table of Contents
Here are three things you can do during National Radon Awareness Month:
1. Test your Home for Radon
If you have never had your home tested for radon gas, now is a good time to do it! Radon is found in different amounts in every home in Ohio.
Since you cannot see, smell, or taste radon the only way to know if it's in your home is to perform a radon test.
Radon varies in every home, so just because your neighbor tested below the EPA action level of a 4.0 does not mean that your home will too.
Radon Eliminator offers discounted residential radon testing, so there is no reason not to have your home checked. Long-term radon gas exposure, even at lower levels can cause lung cancer.
2. Mitigate Radon from your Home
If your radon test comes back elevated, you will need a radon mitigation system installed to remove the high concentration levels from your home. Radon reduction systems are the only way to remove radon gas for the long term accurately.
There are a few ways to install a mitigation system depending on the layout of each particular home. Once a technician has an accurate description of the home they can provide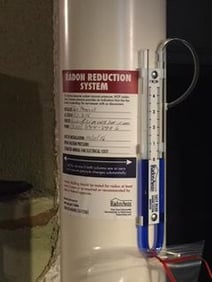 options along with a free price quote.
If you know there are elevated levels of radon in your home, now is the time to schedule your installation to ensure the safety of yourself and your family.
3. Spread Awareness
It's National Radon Action Month, so spread radon awareness. If you are reading this, share with friends and family. Remember, every Ohio home will have some radon concentration levels, it is important to ensure yours is not at a dangerous level.
If you are interested in learning more about Radon Gas exposure, visit the World Health Organization's website, or the EPA.
Our company has a team of licensed professionals who can test or mitigate radon in your home.
Now is the time to act!
Contact us today if you would like to schedule a discounted radon test or get a free estimate for a professionally installed radon mitigation system.