Radon Testing Professionals in Akron, Ohio
Does your Akron, OH home contain elevated levels of Radon Gas?
If you have never had your home tested, the professionals at Radon Eliminator can help you.
What effect does radon have on the human body?
Ignorance is not bliss, especially when it comes to dealing with radon gas problems. The more you know, the quicker you can respond.
That is why our licensed Akron Radon Testing Company was formed to educate residents of its danger and the exact steps you can take today to get the problem solved.
Unfortunately, so many people don't know about Radon's dangers because the gas is colorless, odorless, and education is greatly lacking.
In fact, it is one of the greatest home health risks in the US and Ohio in particular, which contains one of the highest radon gas concentration levels in the country.
With that said, the easiest way to target an enemy (Radon) is to understand where it comes from and how it gets into your home.
Let's figure it out together!
How does radon get into your Akron home?
Radon is a naturally occurring radioactive gas produced by uranium breakdown in soil, rock, and water.
Air pressure inside your home is usually lower than the air pressure outside; this causes a vacuum effect known as pressure differentials, drawing radon in through foundation cracks and other openings.
Even if you don't have visible cracks in your foundation, it is important to get your home tested. You could still have high radon levels because radon will permeate concrete.
If you would like to learn more about how radon can enter your home in Akron, click here.
What does testing look like?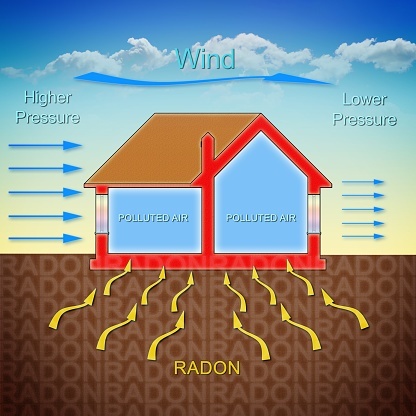 Radon testing is simple and effective!
A Radon Eliminator contractor will come out to your home and begin to investigate the 7 possible intrusion points throughout your basement.
These 7 intrusion points can come in the forms of foundation cracks, construction joints, cracks in walls, gaps in suspended floors, gaps around service pipes, cavities inside walls, and sump pumps or water supplies.
Once these points are identified, the contractor will deploy a special device to test radon's impact on all floors in your home. Once samples are taken and quantified, the contractor will provide a report of their findings.
What do you look for from the test?
Radon Testing is measured in PicoCuries per Liter. The World Health Organization recommends that action be taken on any home registering radon levels at or above 2.7 pCi/L.
The EPA recommends that action must be taken on any home registering radon levels between 2-4pCi/L and above.
Once your test is complete, the Radon Eliminator contractor will go over the report of the findings with you.
Where to go from here?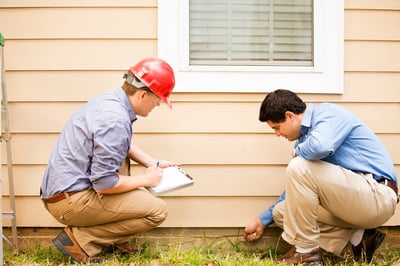 Professionally done Radon Testing by Radon Eliminator has a major impact on indoor air quality throughout the Akron area.
Our technicians will come to your home and place a radon test in your basement for 48 hours. The monitor will remain there collecting data. When the technician returns to pick up the test, they will be able to tell you what the radon concentration levels are in your home.
If your home tests above the EPA recommended action level of 4.0, you will need to have them install a Radon Mitigation system to remove the dangerous gas.
It's important to make sure that you and your family are safe from this cancer-causing gas.
If you have never had your Akron home tested for Radon Gas, now is the time.
Click on the link below to schedule a discounted test with our Top Radon Testing Company in Akron, OH, today.